High Intensity Focused Ultrasound System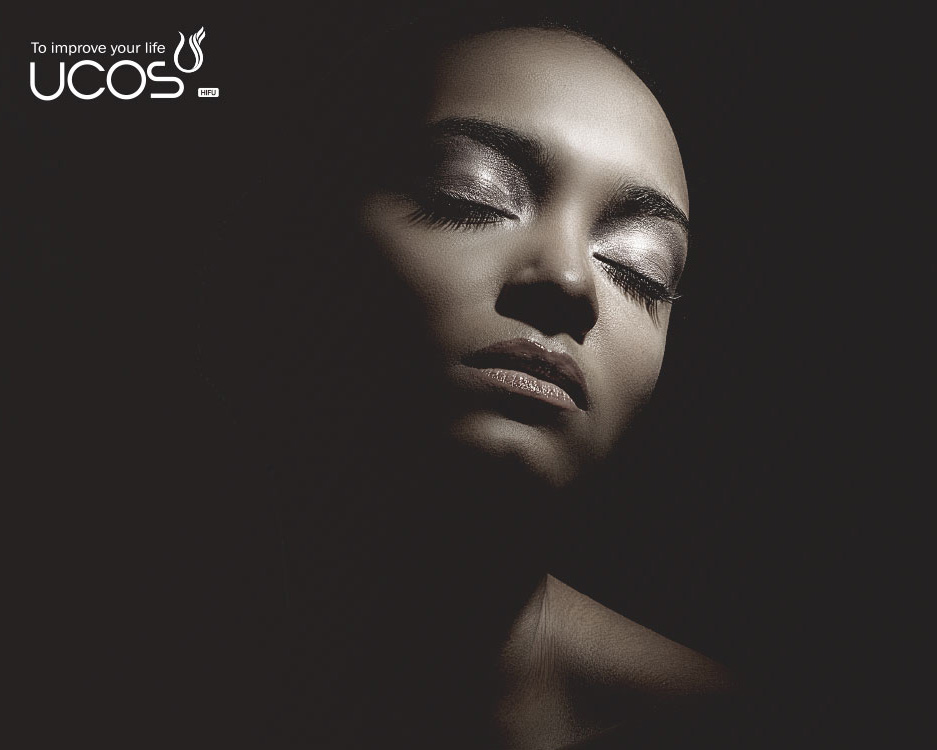 Management based on respect &
Value creation for customers
BE&BI Tech pursues the happiness of all customers as its top priority.
BE&BI is an abbreviation of Best Electronic technology and Best Innovation technology, meaning that our corporation's wish is to become a professional medical machine manufacturer with strong convictions for the future, based on state-of-the-art electronic and innovative medical technology. BE&BI Tech focuses on fusion therapy systems, application systems, skin care and treatment systems. We are continuously developing new product innovations, through developing an exclusive advanced generic technology. BE&BI Tech will continue to strive to develop new technologies for the health of humankind, and to offer our customers even greater satisfaction.
心  Heart / Filled with warmth and enthusiasm
氣 Energy / Filled with ambition and energy
情 Attachment / Growing together with customers
●Customer Satisfaction  ●Customer Impressions & Feelings  ●Customer Happiness
High Intensity Focused Ultrasound System
This technology has the advantage of removing wrinkles and lifting the skin without performing a direct surgical operation on the skin. It can be used for periods of 10 to 30 minutes by the indirect operation method, after which you can easily go about enjoying your daily life. The effect will occur naturally, without harming the upper layer of the skin.
This technology also enables local treatment which can prevent damage to a wide range of tissues, and can reduce damage and pain in the surrounding areas. It can also be applied to lift the wrinkles around drooping eyelids, and to other problem areas such as the treatment of a drooping chin area.
Since the skin is lifted through the regeneration of the tissues in the inner layer of the skin, a repetitive treatment with the existing skin beauty device is not necessary. Also, as the tissue formed in the inner layer of the skin is maintained for a long period, the treatment effect is maintained over time.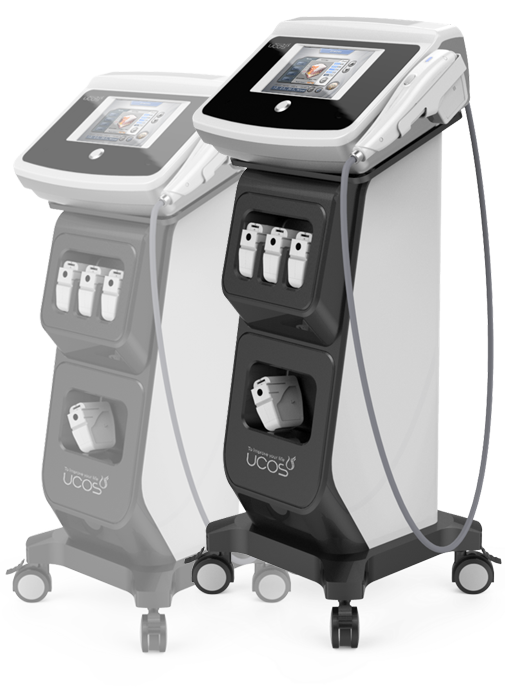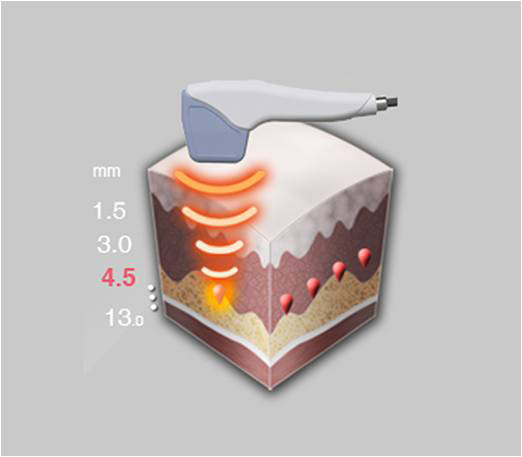 High Intensity Focused Ultrasound
High intensity ultrasound energy is transmitted to the skin at a depth of 1.5 to 13mm below the surface of the skin to generate a thermal coagulation area, the size of which is of less than 1mm. At the thermal coagulation area, a high heat of more than 60 degrees is generated. By constantly forming the thermal coagulation point on the target layer, the area is regenerated by pulling and shrinking the surrounding skin tissues.
Product principle
Generate HIFU(High-Intensity Focused Ultrasound)
▼
Using probe, ultrasound focusing beneath skin.
▼
Renewing elastin and collagen.
▼
Skin looking smooth, elastic, and healthy.
High-Intensity Focused Ultrasound transmitted from the dermis to the SMAS layers!

HIFU(High Intensity Focused Ultrasound)
Is delivered into the deep skin fractionally.
▼
Cause thermal coagulation to SMAS (Super facial Muscular Aponeurotic System), fascia, deep dermis and subcutaneous fibrous tissue
▼
By wound healing, skin tightening and rejuvenation happens gradually with time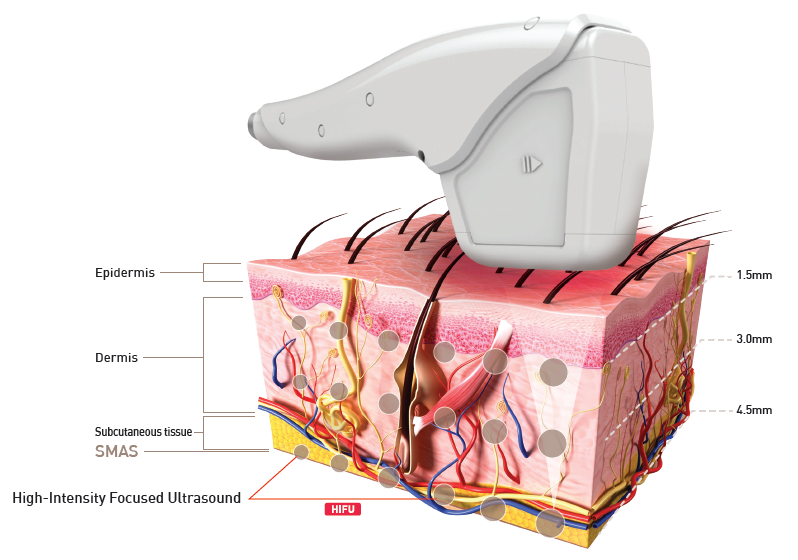 UCOS-HIFU transmission depth
A thermal coagulation point is
formed in the dermal layer of
the skin, at 1.5mm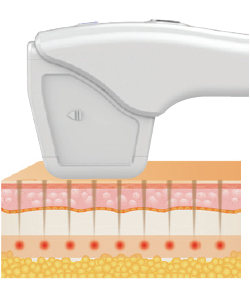 A thermal coagulation point is
formed in the dermal layer of
the skin, at 3.0mm
A thermal coagulation point is
formed in the dermal layer of
the skin, at 4.5mm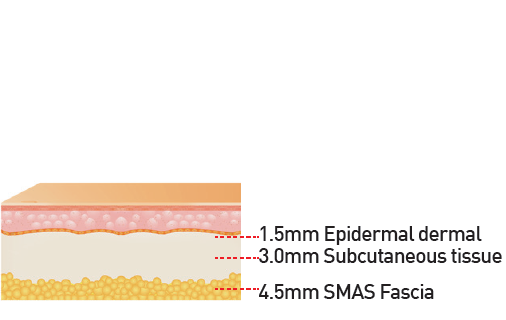 Face lifting, tightening, collagen generation,
improvement of the skin's elasticity, body shaping

Regenerating Elastin, Collagen
– Skin tissues in the inner layer of skin pull each other
– New skin tissue is generated
A thermal coagulation point is formed in the SMAS (Super facial Muscular Aponeurotic System) at a depth of 4.5mm, generating an elastin and collagen regeneration reaction around the thermal coagulation point. As the tissues are pulled toward each other, wrinkles and the skin's elasticity can be improved.
The UCOS-HIFU System has been created to meet the 8 conditions required for beautiful skin!!!
BODY SHAPING
Body skin tightening & Contour shaping
Collagen regeneration

Pigment improvement

V-lines

Volumizing effect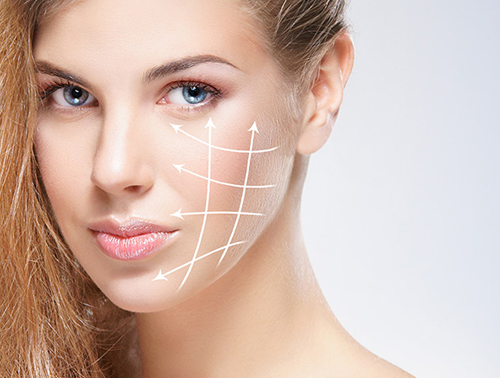 FACE LIFTING & TIGHTENING
Wrinkle reduction & Face rejuvenation
Improvement of the skin's texture

Tightening

Lifting

Elasticity improvement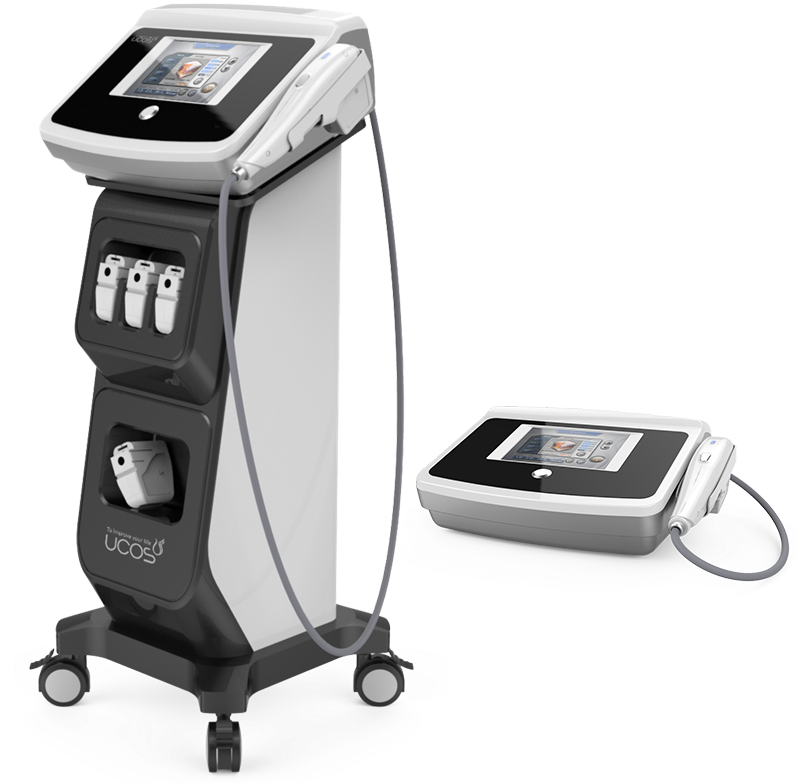 Automatic Resonance Frequency Setting
Equipped with an internal Pressure Regulator
Special Type of Manufactured Shaft Ring
Ultraviolet Disinfection Device
8" TFT LCD User Interface
Cartridges by each body part
User Friendly Interface Touchscreen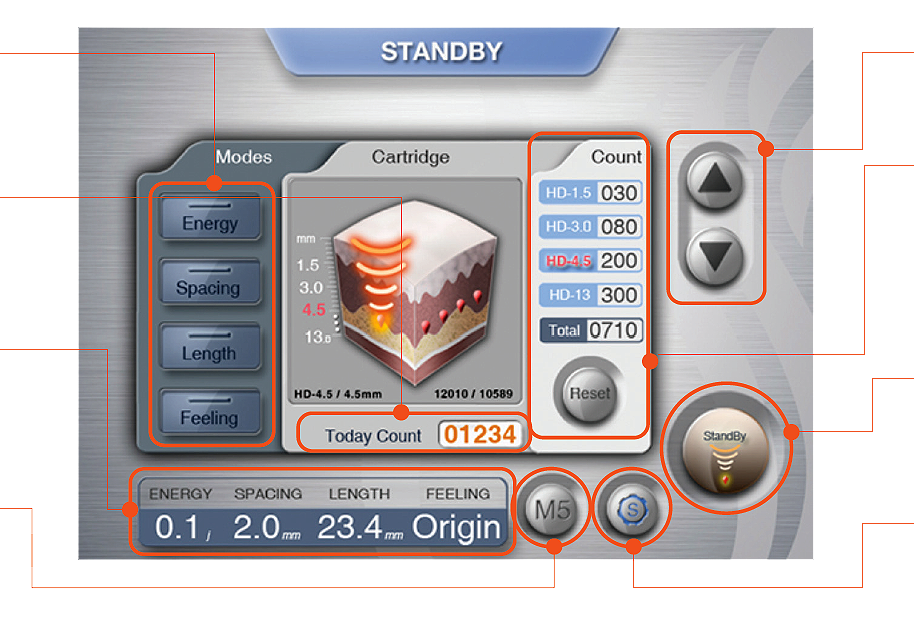 1.Parameter
Adjust parameter values in the current display
2.Total usage count
Display the total cartridge
usage count of the day
3.Parameter display
Display the set values of parameter
4.Memory button
Button for loading parameter
values from the memory
5.Adjustment
Button for adjusting
the values of parameter
6.Usage count by cartridge
Display the accumulated usage count by
cartridge that has been applied to the current
patient. Press 'Reset' button to reset the count value
7.Ready / Standby mode
Button for switching between
Ready mode and Standby mode
8.Configuration mode
Button for moving to the configuration
mode for parameter setting
Convenient User Interface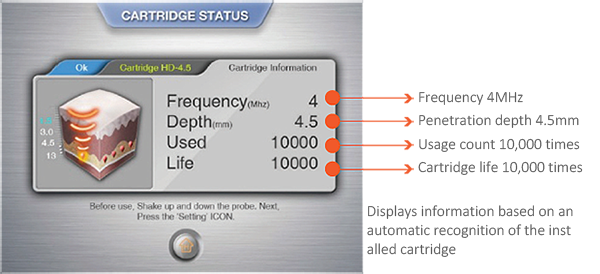 Configuration mode display
1  Ultrasonic output energy, interval pain relief control function
2  Displays the remaining life and information about the combined cartridges
3  The cartridge count used by the current patient
4  Memory function mode
Configuration mode display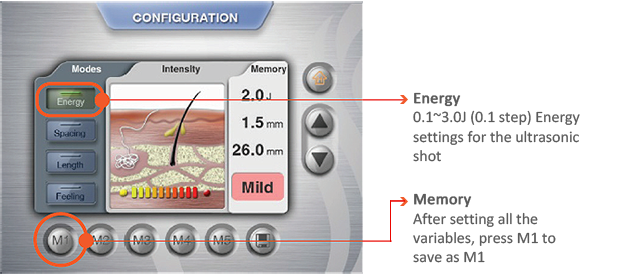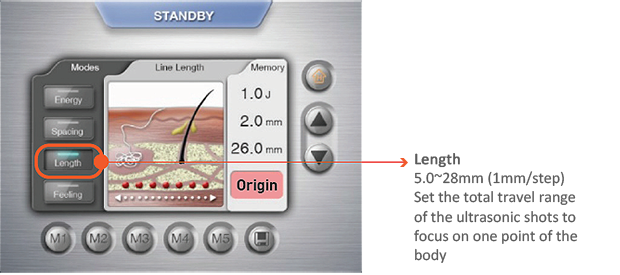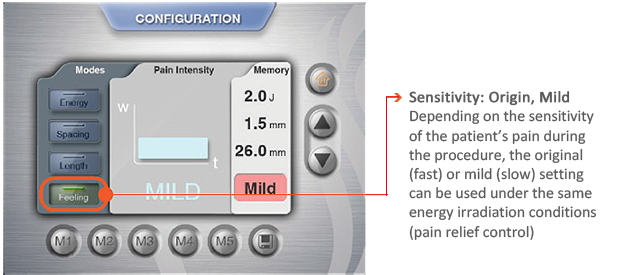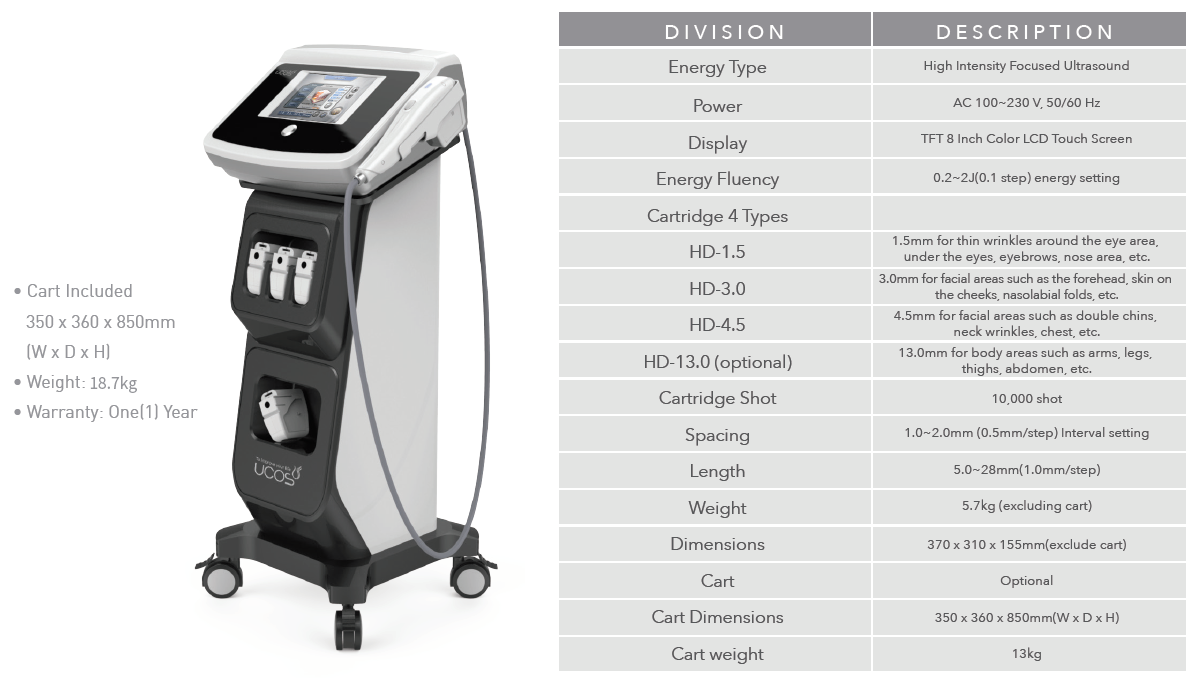 Before the procedure, it is indicated by decision and marking
of the treatment area, followed by simple cleansing and then
anesthetic cream Performed by the practitioner. When you perform
the procedure after selecting and fitting the cartridge for the
procedure area.
If you do not perform anesthesia before the procedure, you may
get pain from the skin impact of the focused ultrasound.
You should refrain from sauna, smoking or drinking for about a week after the procedure.
When you go out, you must apply sunscreen..
You can make up immediately after the procedure, but you should refrain from making too much makeup..
After the procedure, the skin may temporarily become red, but it will disappear immediately.
I do not do the procedure for the part already done.
Performed only by specialists.
UCOS-HIFU Various Cartridge Description
Type of Cartridge( 1.5mm, 3.0mm, 4.5mm, 13.0mm)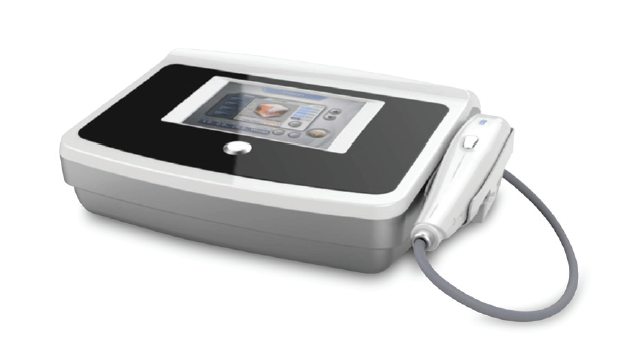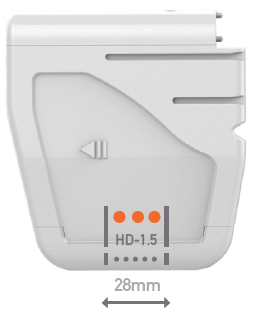 thin wrinkles around the eye area,
under the eyes, eyebrows, nose area,
etc. HD-1.5mm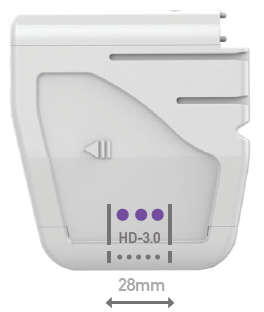 facial areas such as forehead,
cheeks, nasolabial folds,
etc. HD-3.0mm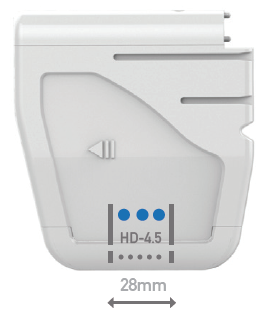 facial areas such as double
chins, neck wrinkles, chest,
etc. HD-4.5mm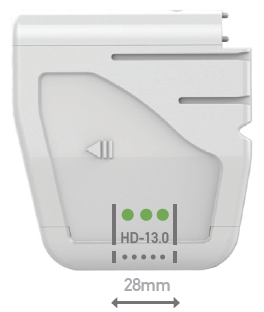 body areas such as the arms,
legs, thighs, abdomen,
etc. HD-13.0mm
UCOS-HIFU Package Contents
High Intensity Focused Ultrasound System
Model
UCOS HD-M
Cartridge
HD-1.5 : O
HD-3.0 : O
HD-4.5 : O
HD-13 : X
Model
UCOS HD-S
Cartridge
HD-1.5 : O
HD-3.0 : O
HD-4.5 : O
HD-13 : O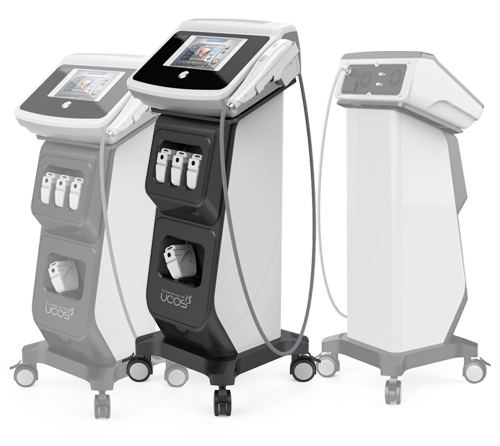 | | |
| --- | --- |
| Model | UCOS HC-P0 |
| Cart | POCKET : O, LAMP : X |
| | |
| --- | --- |
| Model | UCOS HC-P1 |
| Cart | POCKET : O, LAMP : 1 |
| | |
| --- | --- |
| Model | UCOS HC-P2 |
| Cart | POCKET : O, LAMP : 2 |
After confirming your inquiry, we will reply quickly. You can get an answer by email.
Address
#716, Medical Device Complex Center, 200 Gieopdosi-ro, jijeong-myeon, Wonju-si, Gangwon-do, S.Korea, 26354
Main Contact
+82-33-763-7610