High Intensity Focused Ultrasound System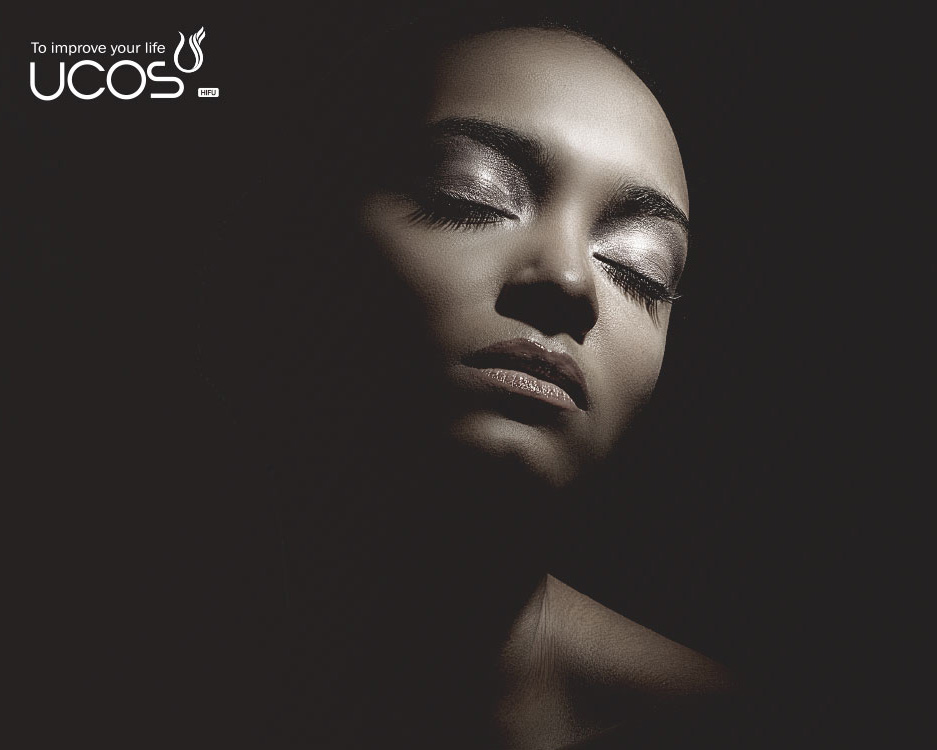 Management based on respect &
Value creation for customers
BE&BI Tech pursues the happiness of all customers as its top priority.
In the BE&BI Tech's new CI, the outer circles represent planet Earth where the five major oceans and the six continents are organically connected as one, and the face in the middle represents people living together in harmony in the world.
The new CI symbolizes our company's strong commitment and management philosophy to create values for customers and practice management based on respects for people.
BE&BI Tech is focused on convergence therapy systems and skin care treatment systems, and continues to innovate by developing state-of-the-art convergence source technologies. BE&BI Tech is committed to developing new technologies for human health, and we'll continue to strive hard to bring bigger satisfaction and happiness to our customers.
心  Heart / Filled with warmth and enthusiasm
氣 Energy / Filled with ambition and energy
情 Attachment / Growing together with customers
●Customer Satisfaction  ●Customer Impressions & Feelings  ●Customer Happiness
High Intensity Focused Ultrasound System
The UCOS-HIFU has the advantage of removing wrinkles and lifting the skin without performing surgical procedures directly on the skin. The HIFU is an indirect treatment with little damage and no side effects to the upper skin area. With relatively small amount of treatment time of 10 to 30 minutes, it can improve skin elasticity and remove fine wrinkles. The users can also go back to their daily life right after the treatment procedure without any side effects.
The UCOS-HIFU system can be used for local areas to prevent damage to skin tissues. The system is used to remove wrinkles, drooping eyelids, wrinkles around the chin, around the eyes and around the mouth, and to restore skin elasticity and regeneration capability. As the skin is lifted through regeneration of elastin and collagen from the skin's inner layer SMAS(fiber membrane layer, Superfacial Muscular Aponeurotic System) tissues, repeated treatment using existing skincare devices becomes unnecessary. Also, the tissues newly formed in the skin's inner layer by the treatment last for a long period of time.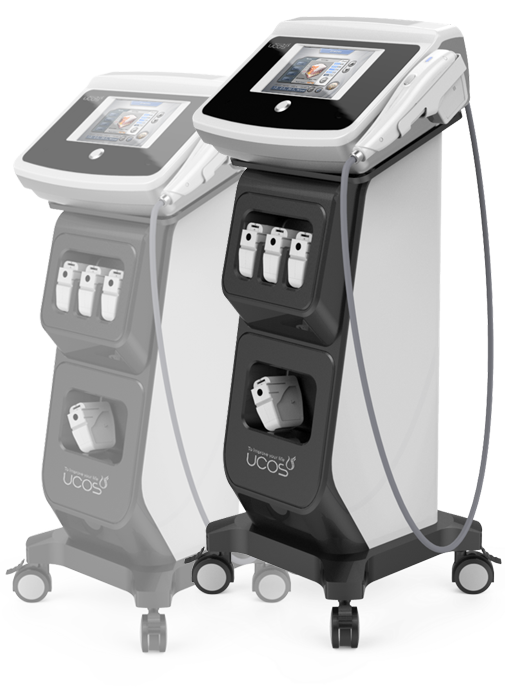 High Intensity Focused Ultrasound
High intensity ultrasound energy is transmitted to the skin at a depth of 1.5 to 13mm below the surface of the skin to generate a thermal coagulation area, the size of which is of less than 1mm. At the thermal coagulation area, a high heat of more than 60 degrees is generated. By constantly forming the thermal coagulation point on the target layer, the area is regenerated by pulling and shrinking the surrounding skin tissues.
Product principle
Generate HIFU(High-Intensity Focused Ultrasound)
▼
Using probe, ultrasound focusing beneath skin.
▼
Renewing elastin and collagen.
▼
Skin looking smooth, elastic, and healthy.
High-Intensity Focused Ultrasound transmitted from the dermis to the SMAS layers!

HIFU(High Intensity Focused Ultrasound)
Is delivered into the deep skin fractionally.
▼
Cause thermal coagulation to SMAS (Super facial Muscular Aponeurotic System), fascia, deep dermis and subcutaneous fibrous tissue
▼
By wound healing, skin tightening and rejuvenation happens gradually with time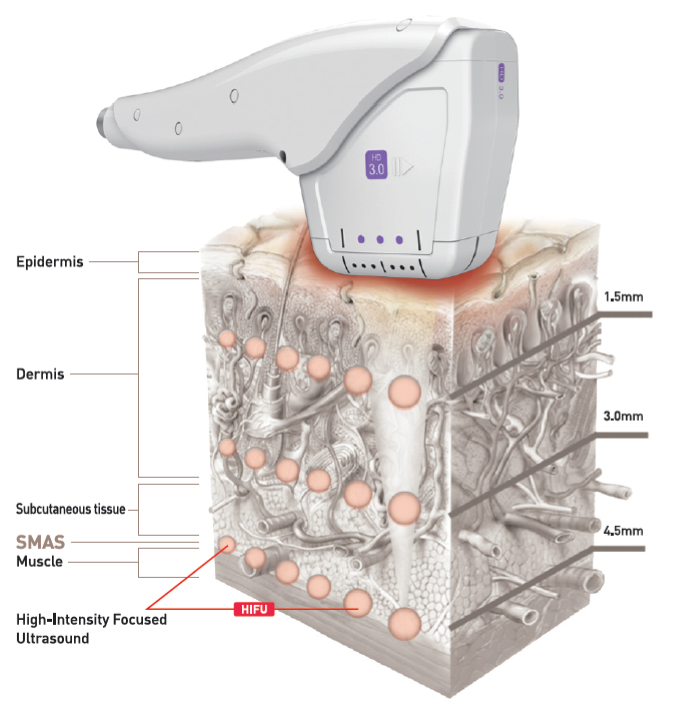 UCOS-HIFU transmission depth
Formation of thermal coagulation
points in 1.5mm deep dermis layer
Formation of thermal coagulation
points in 3.0mm deep dermis layer
leading to increased skin elasticity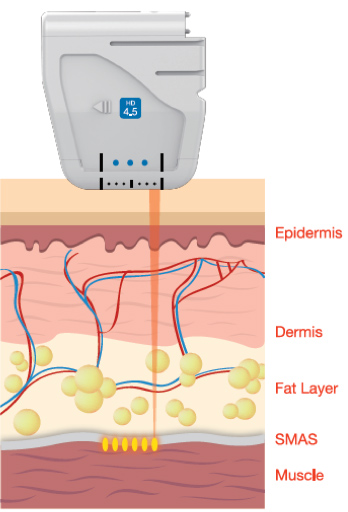 Formation of thermal coagulation points
in 4.5mm deep SMAS layer leading to
elastin and collagen regeneration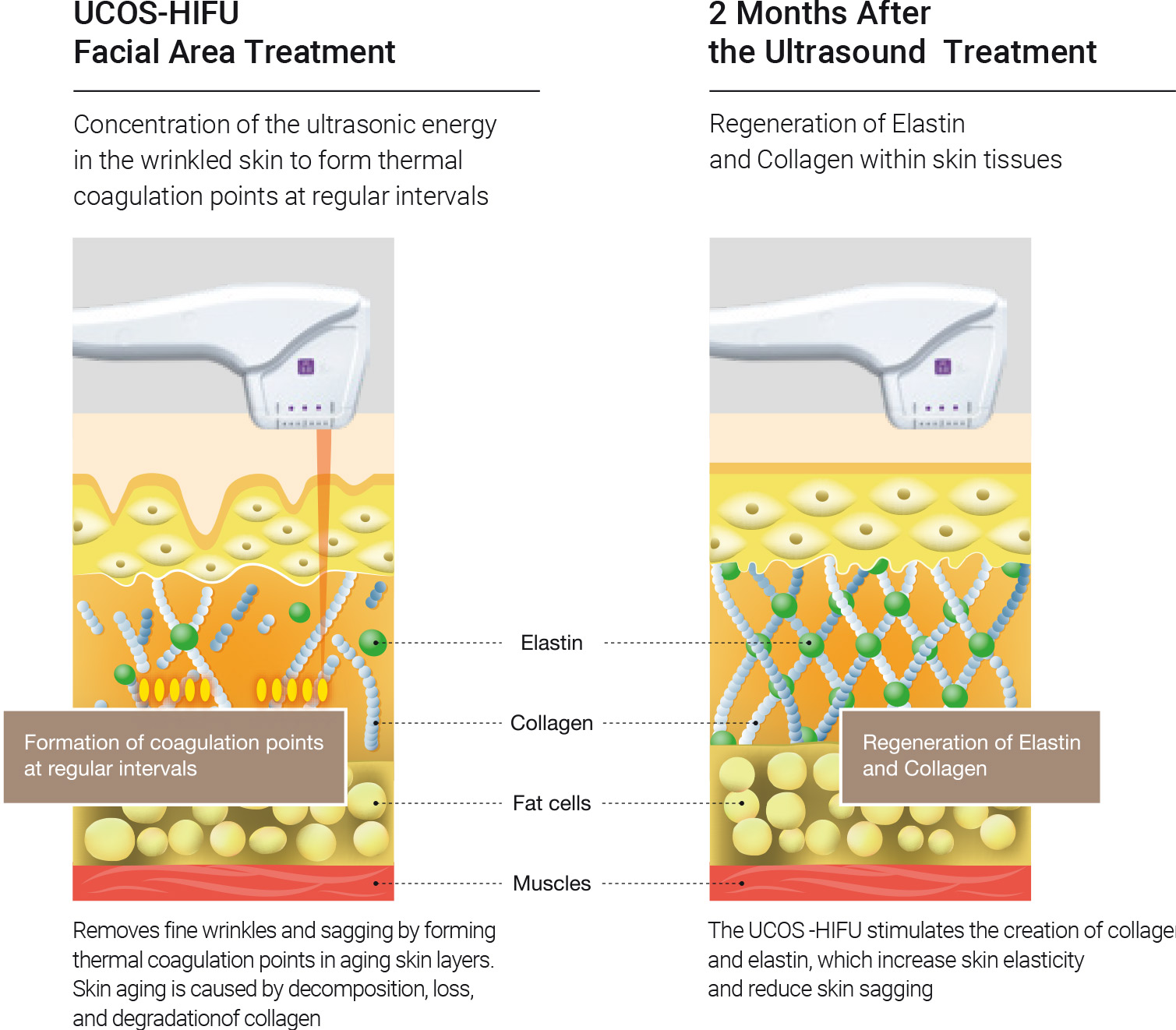 The treatment coagulation points in 4.5mm-deep fiber membrane (SMAS) layers, and elastin and collagen playback reaction takes place around the coagulation points, resulting in removal of wrinkles and increased skin elasticity as the tissues are pulled together tighter
The UCOS-HIFU System has been created to meet the 8 conditions required for beautiful skin!!!
BODY SHAPING
Body skin tightening & Contour shaping
Collagen regeneration

Pigment improvement

V-lines

Volumizing effect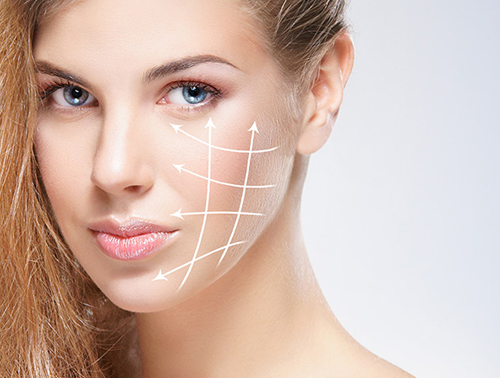 FACE LIFTING & TIGHTENING
Wrinkle reduction & Face rejuvenation
Improvement of the skin's texture

Tightening

Lifting

Elasticity improvement
Preclinical Experiment Research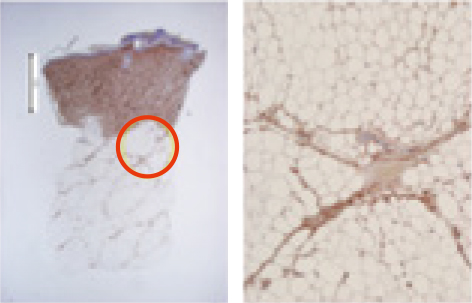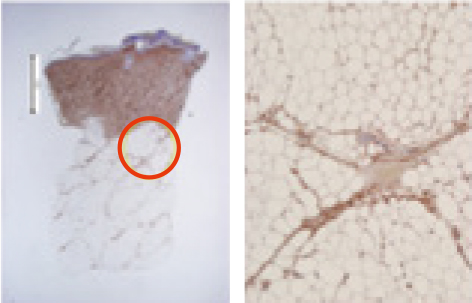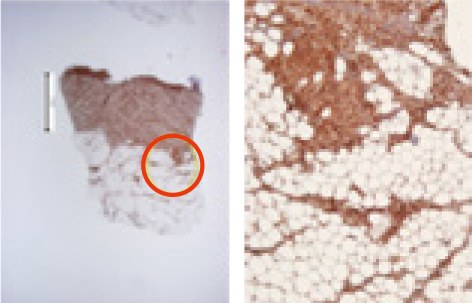 The collagen bundle that forms the septum is thickened to 4~5 layers. The energy increasefrom 1J to 3J
produced more noticeable reaction, but at 3J, some of the inflammatory reaction in the skin were observed.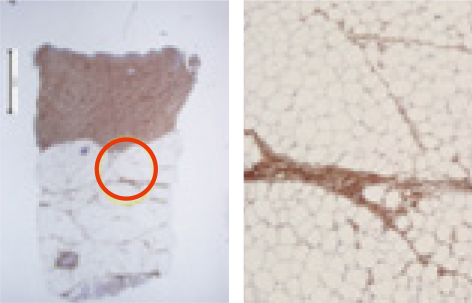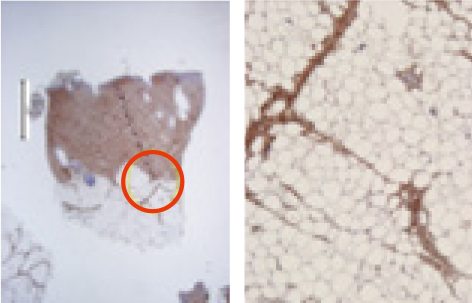 The collagen bundle, which has increased for 14 days, is well maintained.
Full-time testing using mini-pig showed an increase in the generation of collagen two weeks after appropriate coagulation points were generated at 4.5mm depth for all groups when the H&E dye, MT dye, and IHC dye were observed.
The UCOS-HIFU produced coagulation points within the appropriate biocompatible skin and it was observed that collagen was generated well.
the recommended energy will also be used to perform the procedure more safely without the risk of skin burn or other side effects.
Clinical Trial and Evaluation
Yonsei Wonju Serverance Christian Hospital, Department of Plastic Surgery / Clinical Center
Demonstration of Wrinkle Removaland Improvement of Chin Line with Stability(20 Clinical Cases)
The result from 20 clinical cases of neck area treatment
Neck wrinkles removed by 90% from objective observation / All patients felt satisfied
After treatment, wrinkles stayed gone and the elastic skin was maintained from the continuous regeneration of collagen
There were very few side effects, such as red sports, and it was evaluated as a safe and effective treatment
Demonstration of Skin Elasticity Improvement and Effectiveness of Treatment (47 clinical cases)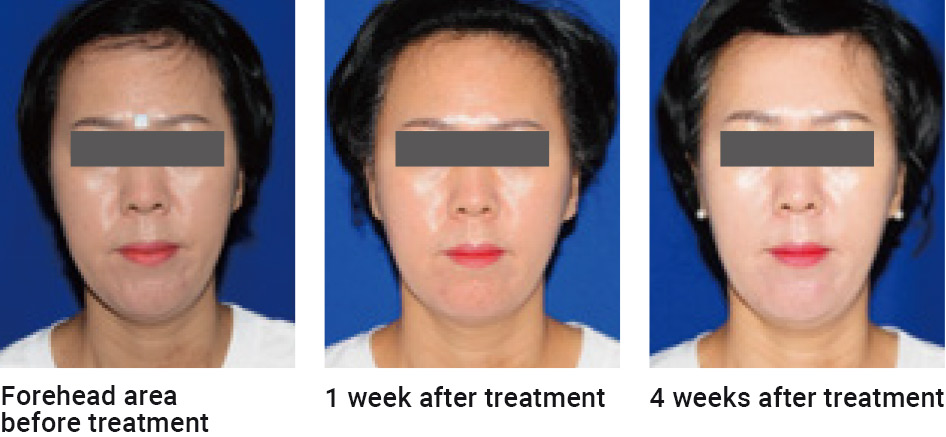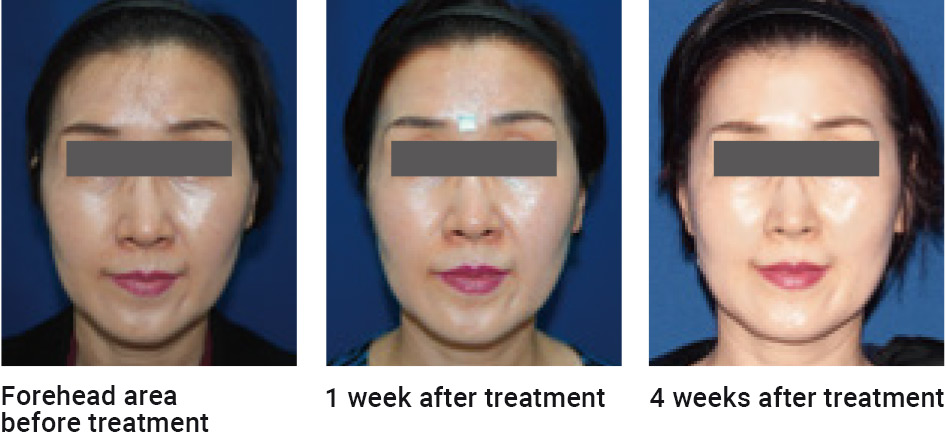 The result from 47 clinical cases of forehead area treatment
Forehead wrinkles removed by 86% from objective observation after 30 days
Skin was lifted by 2mm on the AEH and the skin elasticity was maintained after 90 days of treatment
Patients' satisfaction level was very high after the treatment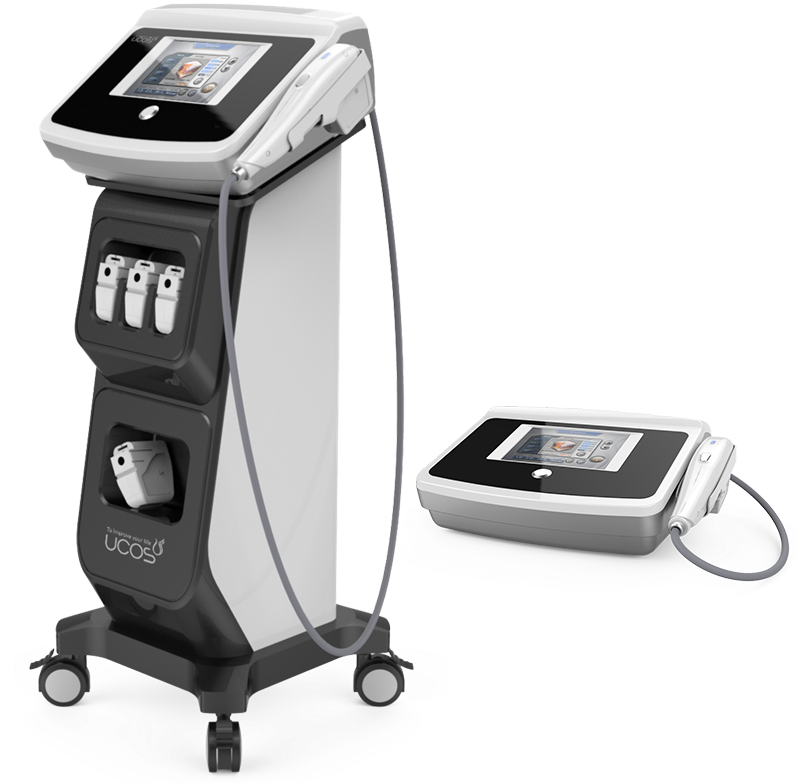 Automatic Resonance Frequency Setting
Equipped with an internal Pressure Regulator
Special Type of Manufactured Shaft Ring
Ultraviolet Disinfection Device
8" TFT LCD User Interface
Cartridges by each body part
User Friendly Interface Touchscreen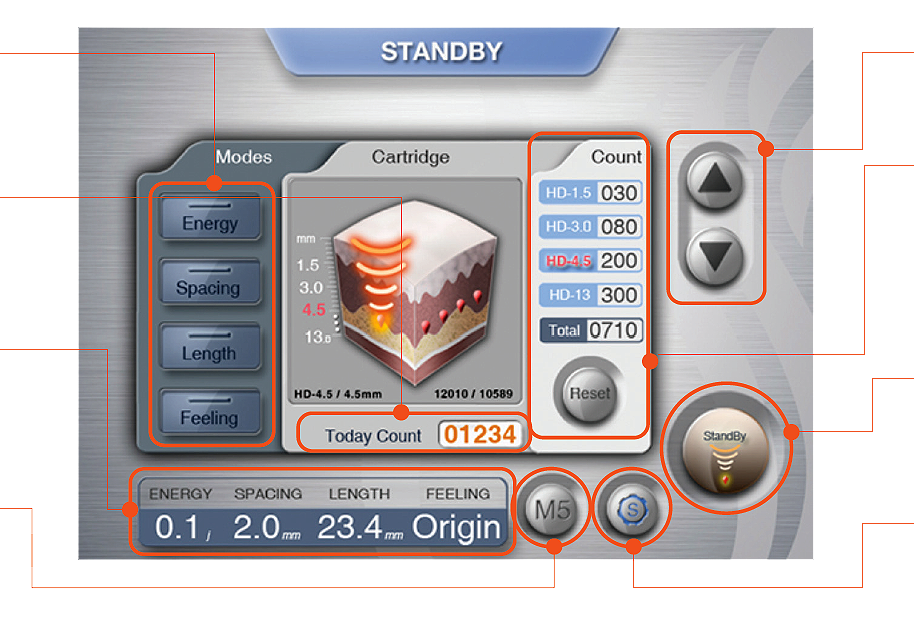 1.Parameter Adjust parameter values in the current display
2.Total usage count Display the total cartridge usage count of the day
3.Parameter display Display the set values of parameter
4.Memory button Button for loading parameter values from the memory
5.Adjustment Button for adjusting the values of parameter
6.Usage count by cartridge Display the accumulated usage count by cartridge that has been applied to the current patient. Press 'Reset' button to reset the count value
7.Ready / Standby mode Button for switching between Ready mode and Standby mode
8.Configuration mode Button for moving to the configuration mode for parameter setting
Convenient User Interface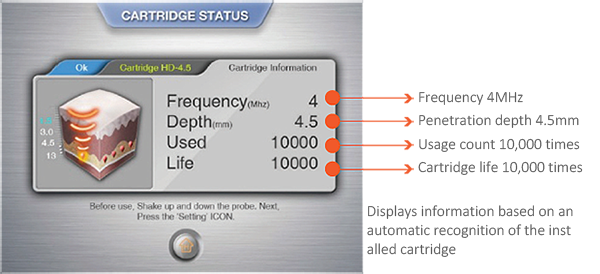 Configuration mode display
1  Ultrasonic output energy, interval pain relief control function
2  Displays the remaining life and information about the combined cartridges
3  The cartridge count used by the current patient
4  Memory function mode
Configuration mode display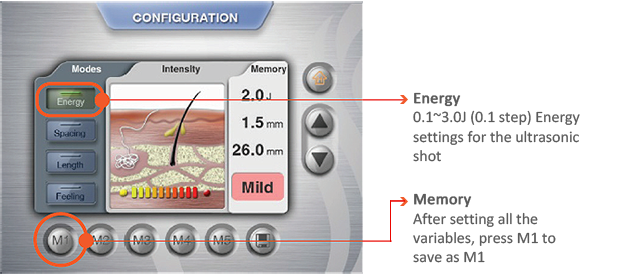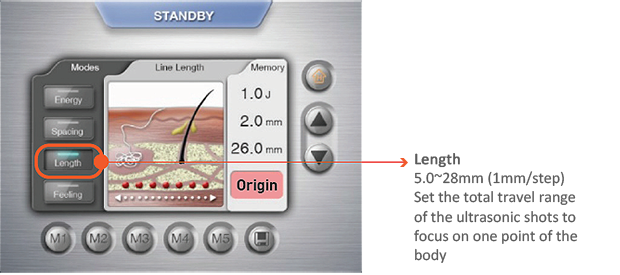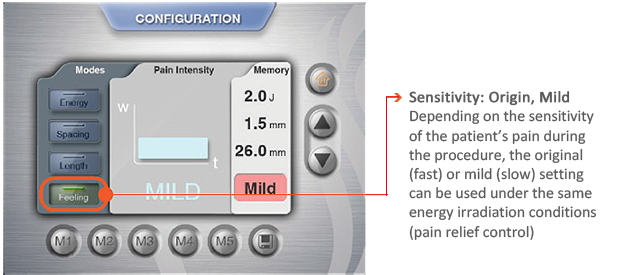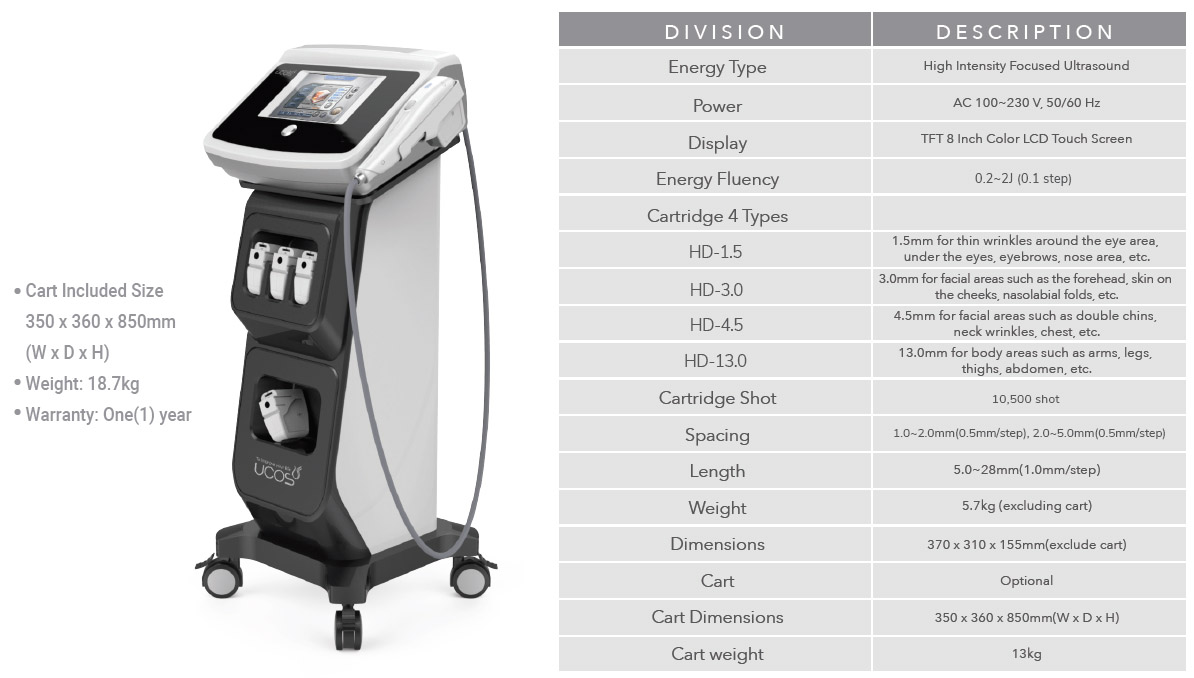 Before the procedure, it is indicated by decision and marking
of the treatment area, followed by simple cleansing and then
anesthetic cream Performed by the practitioner. When you perform
the procedure after selecting and fitting the cartridge for the
procedure area.
If you do not perform anesthesia before the procedure, you may
get pain from the skin impact of the focused ultrasound.
You should refrain from sauna, smoking or drinking for about a week after the procedure.
When you go out, you must apply sunscreen..
You can make up immediately after the procedure, but you should refrain from making too much makeup..
After the procedure, the skin may temporarily become red, but it will disappear immediately.
I do not do the procedure for the part already done.
Performed only by specialists.
UCOS-HIFU Various Cartridge Description
Type of Cartridge( 1.5mm, 3.0mm, 4.5mm, 13.0mm)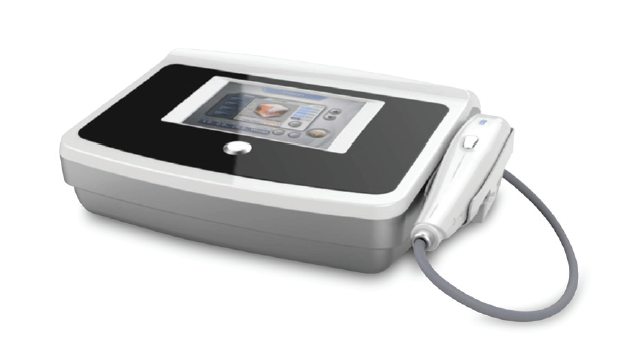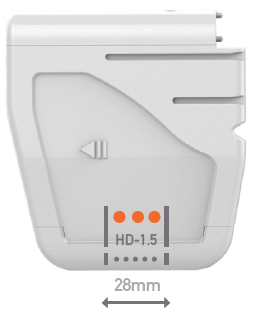 thin wrinkles around the eye area,
under the eyes, eyebrows, nose area,
etc. HD-1.5mm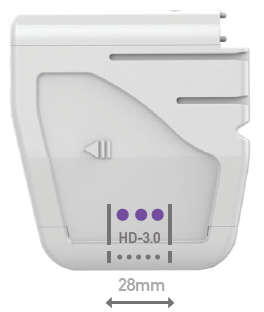 facial areas such as forehead,
cheeks, nasolabial folds,
etc. HD-3.0mm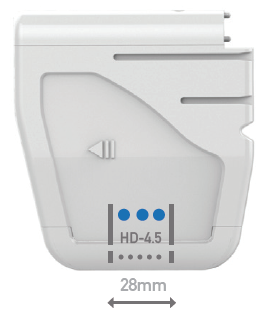 facial areas such as double
chins, neck wrinkles, chest,
etc. HD-4.5mm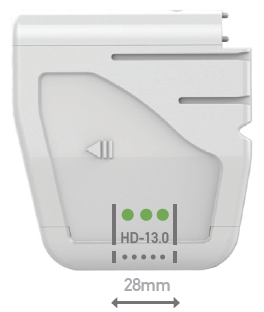 body areas such as the arms,
legs, thighs, abdomen,
etc. HD-13.0mm
UCOS-HIFU Package Contents
High Intensity Focused Ultrasound System
After confirming your inquiry, we will reply quickly. You can get an answer by email.
Address
#716, Medical Device Complex Center, 200 Gieopdosi-ro, jijeong-myeon, Wonju-si, Gangwon-do, S.Korea, 26354
Main Contact
+82-33-763-7610
E-mail
marketing@bnbtech.kr